Fontys University of Applied Sciences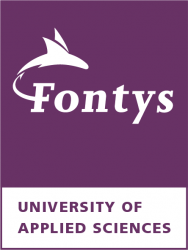 Fontys offers 1-year programmes in 2 different countries:
Fontys University of Applied Sciences in Venlo, The Netherlands.
Plymouth University in the U.K.
2 Different Universities, 2 different cities and 2 different countries, with their own approaches, cultures, international communities, strategic environments and good relations and cooperation's with numerous employers in their region, both nationally as internationally. This increases your chances on landing a good job.
Our ultimate aim is to prepare you for a management career whether or not you have academic and/or industry experience. We offer an opportunity to enhance your professional competence with the knowledge, technical capacity and skills demanded in senior management positions.
At Fontys we belief that a range of different study approaches prepare you best for the business field after graduation; workshops, lectures, group work, guest lectures, assignments, group discussions, excursions and case studies.
To study these programs you need to be:
Open minded with a self-reflecting attitude
Independent and self-reliant way of thinking, working, decision making/taking
Being actively involved in an international community
Being motivated to work hard since the program has a heavy workload of 90 ECs in 1 year.
Eligible programmes
The following specific master's programmes:
Scholarships available
10 scholarships available per country for students from:
Division of the scholarships:
5 Scholarships for the Supply Chain Management Programs
5 Scholarships for the Business and Management Programs
Value of the scholarship
Tuition fee: € 1,300
Duration of scholarship
Entire duration of the studies (13 months)
Academic requirement
Bachelor's degree
English level
TOEFL iBT minimum score: 90
IELTS minimum score: 6,5 and 5,5 in all elements
Working experience needed?
No, working experience is not a requirement.
Contact person
Olga Kuijpers
T +31 88 507 6031
Website
Application deadline
1 April 2023
Documentation to provide
Orange Tulip Scholarship application form
Proof that the admission process with the Dutch institution has started
Curriculum Vitae in English
Motivation letter specifically written for OTS
Terms and conditions
By applying for OTS you agree to the Orange Tulip Scholarship terms and conditions.
Apply for OTS