Student ambassador application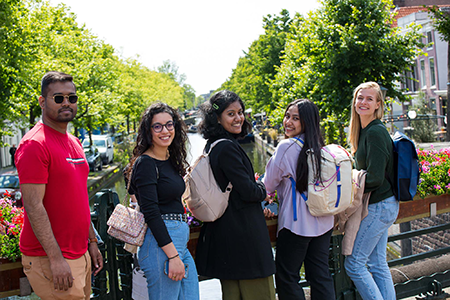 As a student ambassador, you join a team of talented and motivated international students who inform (prospective) international students about studying and working in the Netherlands. You will share your experiences on social media, the Study in NL website (in blogs) as well as during fairs, webinars and during other events/activities.
What do we ask of you?
As a Study in NL ambassador, you will:
do an Instagram take over at least once (@StudyInNL - 30,7k followers);
write 2 blogs or make 1 vlog;
help out with live or offline events organised by Nuffic or Dutch higher education institutions;
be in direct contact with prospective international students to answer their questions about studying in the Netherlands;
provide us with feedback and input on how to improve our communications and activities.
What will you get in return?
As a Study in NL ambassador, you will get:
training about (international) career development;
social media training;
a presentation workshop;
two events per year where you get to meet the other ambassadors;
an even bigger international network;
a certificate;
a recommendation on LinkedIn, or a recommondation letter if required;
Still interested? Awesome!
So are you:
an international student or alumnus/a in the Netherlands;
an active instagrammer;
good with words;
not afraid to take the spotlight?
Then this is a perfect match! Please take 5 minutes to fill out the form below.
The application deadline is 15 January 2023.
We'll contact you to schedule an online intake after you've submitted your application.