Studying in times of corona
Have you ever woken up early to go to class and guessed whether you should attend or skip it just for once and stay in your comfy and warm bed and make those '5 more minutes' last forever?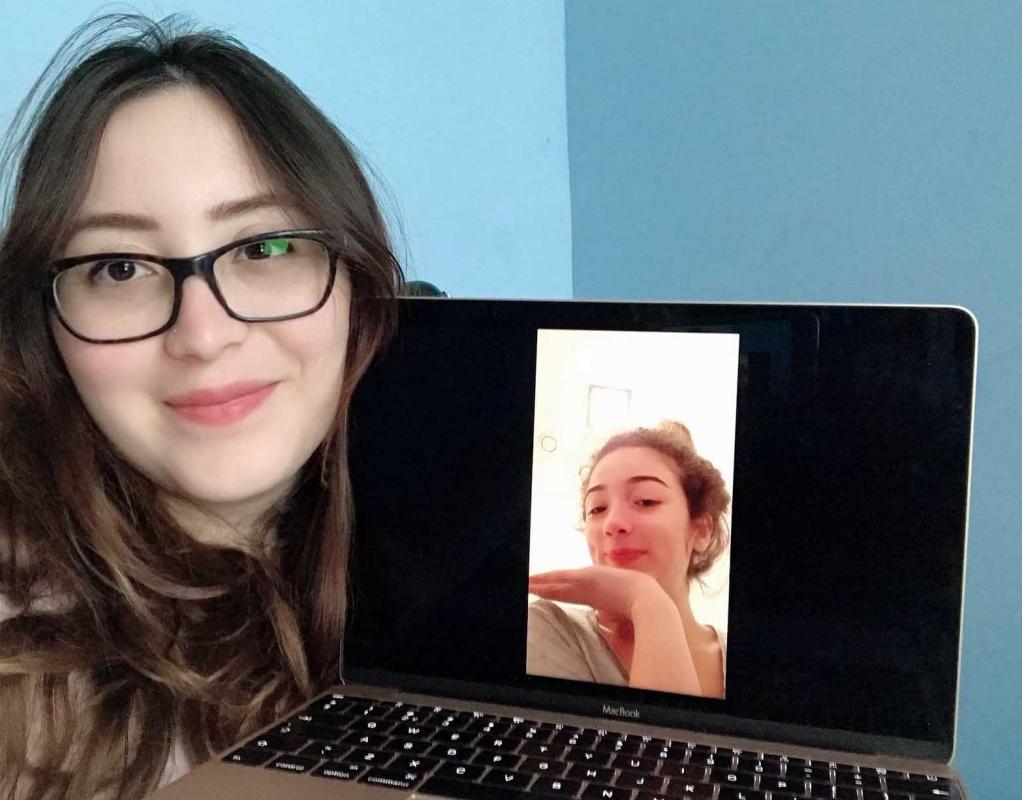 Every day hopping in the bike, bus or train, or walking on the same route. Every Monday with the backpack full of the same books as the Monday before. Arriving to school and greeting the classmates you greeted yesterday; the usual "good morning" to Victor at the front desk, and how to miss Carl's enthusiastic "goedemorgen" while he was watering the plants. It all sounds very routine. They were little things that we barely noticed. But… Aren't those the ones that we miss the most in these corona times?
The 'new normal'
It's been three months and a half since our lives became more like those of The Jetsons: online doctor consults, online groceries, online meetings, online socialising… COVID-19 changed our reality overnight to a digital one.
"Shoutout to all the dedicated teachers and staff members that have made online education in the Netherlands possible!"
Student life suddenly became one that many of us didn't know: online studying. The adaptation process has been different for everyone, as well as the individual experiences. This is how it has been for me:
Online Lectures
I cannot deny that, at the beginning, I really, really liked (probably more than I should have) the idea of waking up just in time (five minutes in advance), instead of 6:00 a.m., for my first class at 08:30 and follow the lecture either enjoying a nice plate of cereal with milk, or from my comfy bed. I could finally combine my two main pastimes: studying and sleeping.
The lectures now consisted in, firstly, presentations with audio by the lecturers. I was quite surprised, and even felt a bit nostalgic, that it was so natural and familiar. If you closed your eyes, you could definitely see the lecturer at the front of the class and picture your classmates around you!
Secondly, discussion sessions via Teams were scheduled and there was an open chat forum in the online environment of the University for any questions that might pop up. Lecturers were also available for one-to-one support.
Shoutout to all the dedicated teachers and staff members that have made online education in the Netherlands possible!
Cyber Study-Buddies
Online study groups can definitely lifesavers for students!I remember many occasions in which my friends and I had the great idea of meeting after class and have study group sessions. I will not give many details, but I can assure you that the first ten minutes were usually successful!
Now, with corona times, we had the same idea to be able to support each other and learn together online. And, this time, our sessions were successful for longer than ten minutes. We created a WhatsApp group chat to message instantly and started organising video-calls on Teams to see each other, share what we had learned, and discuss case studies. This allowed us to enrich one another with different perspectives in the closest way to what it would have been in the classroom.
I must mention that, although at the beginning the main purpose of the online group was to study, it also allowed us to support and motivate each other on the heavy days. Little did we know that it would impact our social lives too. We could not greet and hug in person, but somehow, we were there for each other. We found a way to be close yet further than 1,5 meters away and without needing a mouth mask!
Online Evaluation Methods
Open-book Case Analysis exams can be a challenge. Especially when you are following different subjects at the same time and are stuck in quarantine. And now, these were the evaluation method for all subjects. The purpose of these exams is to allow us students to demonstrate our understanding and skills, by analysing case studies and proposing solutions to certain dilemmas or assessing the events.
I believe that, especially during lockdown times, we can learn more from these type of exams than we can show.
We can learn patience and perseverance on the days we stare at the keyboard and can't write a single word. Determination to continue moving towards the finish line. And, although it may not seem like it, strength to accept our limits when we need to stop to take a deep breath.
I must also mention that I wasn't ready to miss the adrenaline of the written exams at all. I think it could be considered a sport to answer tests' questions, while hearing the clock ticking and yet maintaining your breathing as steady as possible.
May the Force Be with You
I still cannot tell the difference between Mondays and Fridays (unless a deadline is on one of those days), but that will come with time. Thankfully, in the Netherlands it has been possible all along to go out for walks or (my favourites) on bike rides. And, with luck, you may have a nice beach or park close. And, although these past months haven't been easy, I know that we can always learn something good from every adversity. I'm quite sure that we can add the words "patience", "adaptability" and "perseverance" as qualities to our résumé.
So, meanwhile everything goes back to normal, "remember… The force will be with you, always."